Shinedown @ O2 Brixton Academy, London, 27/10/12
31/10/2012 @ 16:42
As
Shinedown
's half-hour set at this year's Download Festival came to an end, I knew that I had to somehow get to see them at their own headline show, in an indoor venue, with a full set. They were so astonishingly good that I just couldn't let the chance pass me by, so when the UK tour was announced and I saw that the London show was on a Saturday, there was no doubt where I was going to be on the 27th of October.
It was scheduled for us to arrive in London relatively early in order to fulfill our obligations towards general pre-rock show rituals (i.e. visiting our favorite London pubs), but a three hour flight delay and a renegade bus ride that dropped us off in the middle of nowhere, messed with our plans and forced us to take a taxi to the venue allowing us to inside just as Redlight King were starting their set. I really want to take a moment and mention that I think that the O2 academy in Brixton is one of the most wonderful venues I have been to, both aesthetically and layout-wise.
Redlight King, as expected, were a decent and solid number however, they do represent a genre that has been heavily over-played, thus their set failed to bring in any thrill and surprise elements throughout the time they were on stage. "Bullet In My Hand", their lead single, probably being the only exception to this, as it seemed that it provided the venue with a certain vibe. Their relatively fuzzy and bad sound did not do them any favours, however we have learned to expect that from supporting acts.
Ten minutes past nine the lights go out and -as prior to every Shinedown gig- Jay-Z's "99 Problems" starts blasting from the PA. The crowd starts singing along as we try to figure out why the band has picked a hip-hop song as their entry music of choice, but
Pearl Jam think it's cool
, so what do we know?
As the band walks on stage accompanied by the main riff of "Sound Of Madness", the whole crowd is now submitted to the power of its groove and nothing that happened before mattered any more. Unfortunately, there seemed to be something wrong with the sound as the bass and drum channels were clearly louder than frontman's, Brent Smith, mic, which was not even close to how loud it should be, or let me say, as loud as I wanted it to be.
And I say 'as I wanted it to be', because Smith has one of the best voices in modern rock music. I know that these matters are highly based on personal opinions, but keeping in mind all the concerts I have been to throughout the years, I can safely say that  there aren't many frontmen out there who can match his vocal abilities and strength. There were times during their set where he was moving, others where he was mesmerizing, and others were words won't be any good to describe, most notably during down-tempo or acoustic sections of their songs where his voice filled every inch of the Brixton Academy.
The remaining band members were highly energetic and the stage show that they presented was really impressive, considering it being in an indoor venue, which included all sorts of fire and smoke elements throughout and a really breath-taking light show. Some people might find all this obsolete, however it is these tiny details that lets us know when bands have transcended to the next phase in their career, as Shinedown have clearly demonstrated.
Zack Myers guitar work and sound were overall quite impressive in spite some minor mistakes, but keeping in mind that there is no second guitarist to back him up, he managed to provide a full, loud experience. On the other hand, Eric Bass, apart from the instrument suggested by his name provided duties on acoustic guitar, keyboard and synth whilst almost solely being responsible for backing vocals throughout the set.
Speaking of the set, it was mainly comprised of the band's mega-hits, which have now mounted up to quite a lot. Ranging from "Diamond Eyes" and "Enemies", where the crowd never stopped jumping around, to slower numbers such as "The Crow & The Butterfly" and "If You Only Knew", both tracks being personal favourites out of the superb album which is "The Sound Of Madness", where the crowd provided astonishing sing-alongs. A small blast from the past hit us in the form of "Fly From The Inside" which was really well performed, followed by one of my favourite tracks for this year, the title track off "Amaryllis", which was screamed right back at the band by the enthusiastic occupants of the Academy.
Smith then took a break to ask us 'who in the crowd came to the gig along with a friend he regards as a brother?, as the next song is about real friendship'. I don't really know if it was because I was part of that specific group of people or just due to Smith's vocals' amazing chemistry with the piano, but "I'll Follow You" was definitely one of the high points of the night. "Unity", even though well received, was unfortunately betrayed by the PA system and the closing track of their set, "45", provided the right amount of emotion and dynamics required for the end of such a performance.
Not long after they went off stage, Myers and his acoustic guitar reappeared for the encore, which gave life to the classic "Simple Man" along with Smith. There is no other band out there that covers that track better than Shinedown. Period. "Second Chance" was undeniably another high point of the gig however, "Bully" which was the track selected to actually end the night was too brought to a relative halt due to the mediocre sound.
I have said it many times before in the past that I believe that Shinedown are one of the best rock bands out there and that they can only get bigger and better. Nevertheless, in order to achieve that they probably need to make a few changes. First of all they might want to consider extending their set time and regard it more as a rock show rather than a predefined set. 14 songs that managed to drag out to a one and a half hour set, which only included hit songs, is not enough if you really want to make it big. Not including obvious choices such as "I Dare You" or "Save Me", the current album they are touring with offers a few more excellent selections to pick from such as "For My Sake" or "My Name (Wearing Me Out)" which will probably never get to be played if not on this tour.
These few missing elements along with the sound quality that seemed to hold us back for a chunk of the concert is what ultimately leaves us with a bittersweet feeling. The band was so energetic, Smith's vocals were top notch and the general show was so perfect that with a better sound and a few extra songs we would probably be taking about a phenomenal live experience. This definitely doesn't mean that it wasn't worth it.
I'm sure that another European tour is on the way before they head back to the studio, and if I can I will definitely fly over and see them again. I have so much faith in this band that I know there will be a time in my life when I say 'I say them during the Amaryllis tour' as other people often tell me about seeing Soundgarden during the "Superunknown" tour or Pearl Jam during the "Vitalogy" tour.
P.S.: Thanks again to Warner Greece.
Setlist:
Sound Of Madness
Diamond Eyes (Boom-Lay Boom-Lay Boom)
Enemies
The Crow & The Butterfly
If You Only Knew
Fly From The Inside
Amaryllis
I'll Follow You
Unity
45
---------
Devour
Simple Man (Lynyrd Skynyrd cover)
Second Chance
Bully
Chris Karadimitris
Photos: Kostas Polyzos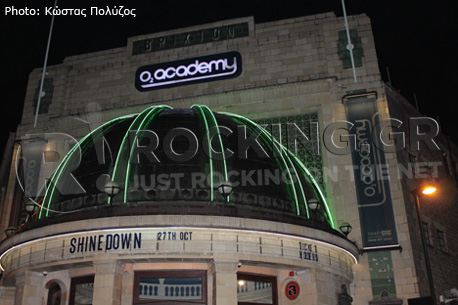 ΔΙΑΒΑΖΟΝΤΑΙ ΤΩΡΑ